Ned Davis – Ned's sister got him into brewing years ago. She said, "You're a chemist and a cook, you'll love making beer". It took some convincing, but she was right, he loves the creative process of trying out new flavor combinations and the challenge of making the same beer time and again. Ned has spent years selling and supporting scientific instruments to analytical labs in Texas, Louisiana and Oklahoma.
Mike Norfleet – Mike has been brewing with Ned and Herb since our second batch. Mike is an Engineer and has his own local firm focused on pile testing for large scale construction projects. His expertise in precision and attention to detail has been immeasurably valuable in designing our brewery and keeping the ship upright, so to speak.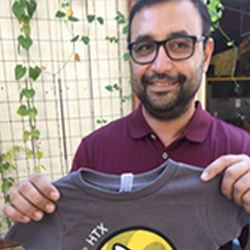 Herb Garcia– Herb moved back to Houston around the same time Ned arrived in town. They signed up for a recreational softball league, got put on the same team and the rest is history. Herb and Ned (along with their friend Todd) brewed the very first batch in Ned's kitchen years ago. Herb has always been the head of quality control at the brewery. Herb is an HR specialist with an accounting background – a nice combination to have around.
Preston – The man, the myth, the legend himself. Anyone who's been over to the brewery has seen his infectious smile and attitude. Preston stays busy behind the bar, working with outside groups to host them at the brewery and keeping things generally presentable.
JJ – Working as the assistant brewer, JJ keeps us stocked up with plenty of delicious beer to enjoy. He also loves taking the pilot system out for test drives coming up with new brews all the time. Stop by and let him know what you'd like to see next!
Harry – One of our indispensable bar staff and all around good guy. Harry's never afraid to get his hands wet, be it keeping all the glasses shiny and clean or jumping into the brewhouse to lend a hand making new batches.